SEAM WELD WHEELS & BLANKS
SEAM WELD WHEELS & BLANKS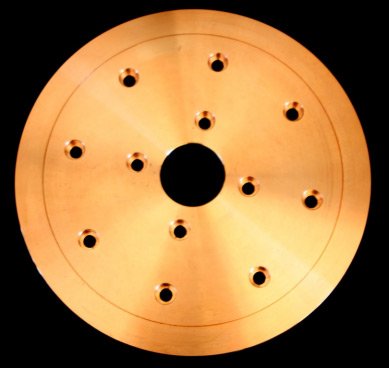 Cadi Company is an ISO certified manufacturer and distributor of seam weld wheel blanks and finished wheels using RWMA Copper Alloys.

Cadi Company has:
A tailored process for individually hot forging blanks consistent with best metallurgical processes.
A proprietary process that yields maximum hardness while maintaining necessary ductility.
A metallurgically engineered process that yields optimum grain structure.
Cadi weld wheels are made from RWMA Class 2 (C18150 and C18200) and RWMA Class 3 (C18000 and C17510) copper alloys. Cadi Class 2 wheels are specially forged to increase hardness to 75Rb minimum. Wheel blanks are in stock to 30" in diameter.
Cadi understands the metallurgical issues of seam welding wheel manufacturing. We have applied this knowledge to develop a proprietary process that consistently delivers quality seam welding wheels for demanding applications.

RWMA CLASS
UNS
Hardness
RB
Electrical Conductivity
%IACS
Applications
Class 2
C18200
CuCr
65 min
75 min.
Hot-rolled steel
Class 2 Premium
C18150
CuCrZr
75 min
75 min.
Coated Materials
Galvanized Steel
C18200
CuCr
Premium grade for hot-rolled steel used with higher pressures
Class 3
C18000
CuNiSiCr
(Beryllium free)
90 min
45 min.
Stainless Steel
High temperature Steels
C17510
CuNiBe
Sourcing your seam weld wheel: it is important to remember that you should NOT use a cast weld wheel. A forged wheel is required for a robust wheel and a repeatable, reliable weld.
Selecting your weld wheel material: Seam weld wheels can be made from RWMA Class 1 Alloy, RWMA Class 2 Alloy, or RWMA Class 3 Alloy. While Class 2 Alloy is most common and cost effective for steel alloys, Class 3 should be used for welding stainless steel. Call Cadi to answer any questions.
Use individually upset-forged seam welding wheels which perform better, last longer, increase production up-time and enhance weld performance because of their fine equiaxed grain microstructure. This fine radial grain flow, the essential property for minimizing premature edge deformation, can only be produced by the upset forging process. Each wheel must be individually forged and heat treated to develop this advantageous microstructure.
We do not recommend cast wheels, produced without forging, they have large columnar grain structures that contributes to edge chipping and flaking, unreliable performance, and higher production costs.
Forged and cast wheels look alike and have similar hardness and electrical conductivity properties. On the surface it's hard to tell them apart however when the surfaces of both wheels are chemically etched, the difference in the grain structure is revealed.
It is important to understand the direct relationship between your production up-time and the method of manufacturing used to produce the seam weld wheel. Individually upset-forged welding wheels outperform cast wheels every time, making them the clear choice for extending electrode life. Many RWMA suppliers do not understand the importance of, nor do not supply individually forged wheels. Cadi Company only sells individually upset-forged and heat-treated seam welding wheels. Most products are available from inventory or can be custom made to meet your specific needs.
Call or Click for a quote: Individually forged and machined weld wheel blanks. Need RWMA material (Class 1, 2, 3), wheel diameter, and thickness. For a finished Weld Wheel please provide a print. We are always there to help, reach out to Cadi.