Metric ISO Caps
Metric ISO Caps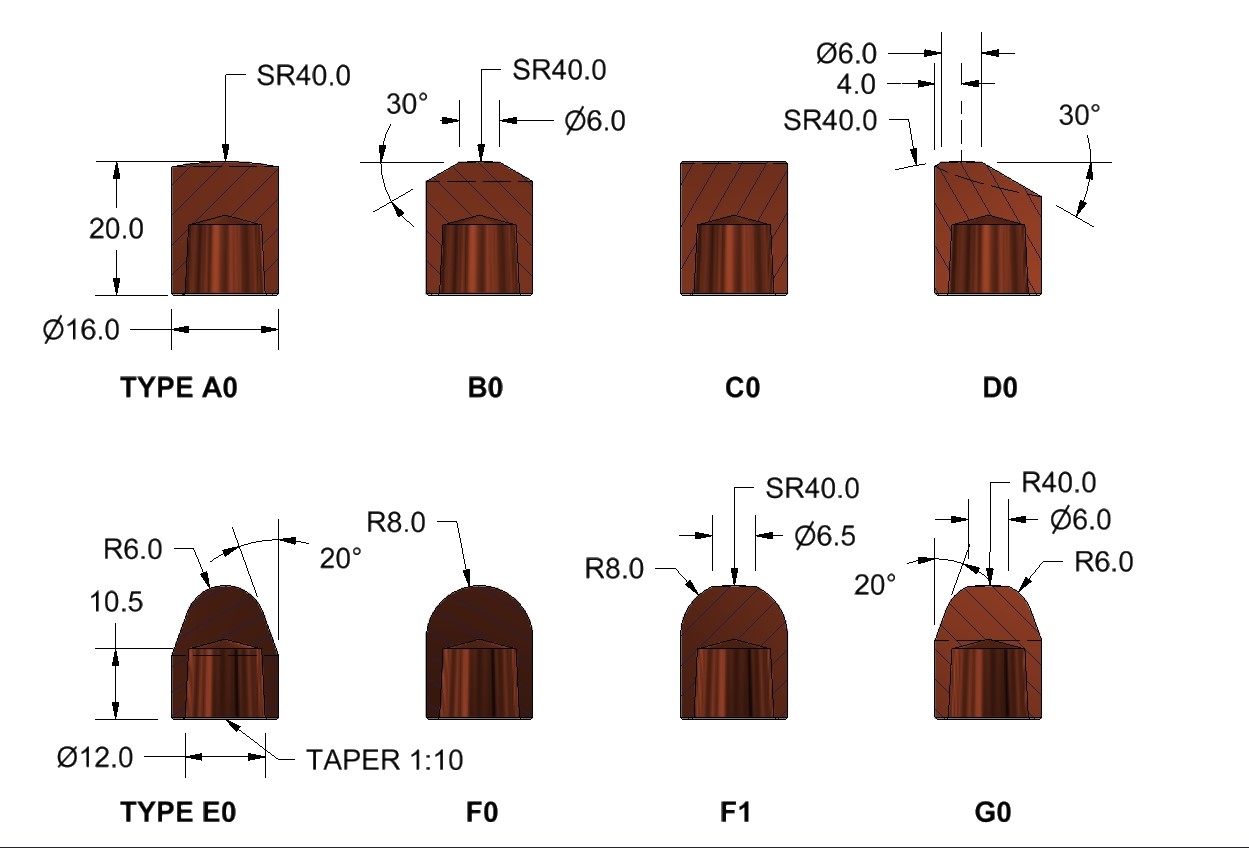 Cadi produces a wide variety of Metric ISO electrode caps. Standard 16 mm diameter caps and shown above. ISO caps are available in 13, 16, and 20 mm diameters. Preferred lengths are 18, 20, and 22 mm respectively. Weld face diameters are 5, 6, and 8 mm respectively. Dimensions may vary slightly for 13 and 20 mm diameter caps. In the standard configuration, these caps have a 1:10 taper.
Cadi's ISO caps adhere to the ISO 5821 International Standard.
The standard material for ISO caps is Class 2 however other materials are available.
The same shanks that are available for RWMA caps are also available for ISO caps. Please specify that ISO caps are being used when ordering shanks. The tapers are different.
We can also make caps with the ISO taper to your custom design. Contact your Cadi representative for more information on custom caps.
| | | | | | |
| --- | --- | --- | --- | --- | --- |
| TYPE | DIAMETER | LENGTH | WELD FACE | WELD FACE RADIUS | TAPER MAJOR DIAMETER |
| A0 | 13/16/20 | 18/20/22 | | 30/40/50 | 10/12/15 |
| B0 | 13/16/20 | 18/20/22 | 5/6/8 | 30/40/50 | 10/12/15 |
| C0 | 13/16/20 | 18/20/22 | | | 10/12/15 |
| D0 | 13/16/20 | 18/20/22 | 5/6/8 | 32/40/50 | 10/12/15 |
| E0 | 13/16/20 | 18/20/22 | | 5/6/8 | 10/12/15 |
| F0 | 13/16/20 | 18/20/22 | | 6.5/8/10 | 10/12/15 |
| F1 | 13/16/20 | 18/20/22 | 5/6/8 | 50/50/50 | 10/12/15 |
| G0 | 13/16/20 | 18/20/22 | 5/6/8 | 32/40/50 | 10/12/15 |