About Resistance Welding Copper Alloy Electrodes
About Resistance Welding Copper Alloy Electrodes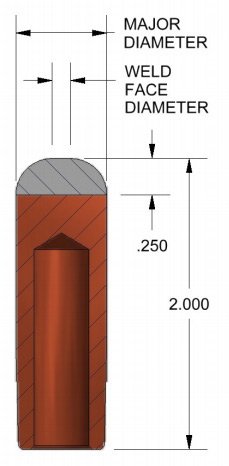 Cadi Company is an ISO 9001:2015 certified manufacturer of standard & custom resistance welding products and accessories using copper alloys.

Resistance Welding is the coordinated application of electric current and mechanical pressure in the proper magnitudes and for a precise period of time to create a coalescent bond between two base metals. Weld electrodes are used to conduct the electric current to the base metals as they are forged together.

Resistance Welding Products: Adaptors, Bushings, Electrodes (straight, single and double bend, back up, nut and stud, threaded, refractory faced and swivel head electrodes), Dies & Fixtures, Electrode Holders (cylinder-mounted multi-spot, straight welding electrode, ejector and non-ejector, offset, platen mounted and fast-follow-up holders), Flash & Butt Welding Dies, Holders, Pneumatic Cylinders, Resistance Welding Electrodes, Seam Welding Wheels, Shafts, Shanks, Spot Welding Electrodes, Spot Welding Caps, Transformers, Welding Arms, Welding controls, Welding Connectors, Welding Platens, Welding wheels & Blanks.
Item Name:
Resistance Welding Electrodes
Materials:
C15000 Copper Zirconium
C18150 Copper Chromium Zirconium
C18200 Copper Chromium
C18000 Copper Nickel Silicon Chromium
C17510 Copper Nickel Beryllium
C17200 Copper Beryllium
RWMA Class 10 Copper Tungsten
RWMA Class 11 Copper Tungsten
RWMA Class 12 Copper Tungsten
RWMA Class 13 Tungsten
RWMA Class 14 Molybdenum
RWMA Class 20 Dispersion Strengthened Copper
Industries Served:
Aerospace Industry
Aircraft Industry
Appliance Industry
Automatic Vending
Automotive Industry
Building Construction
Business Equipment
Consumer Electronics
Electrical Equipment
Farm Machinery
Foundry Products
General Manufacturing
HVAC
Industrial Machinery
Machine Tool
Manufacturing Industry
Material Handling Systems
Material Processing
Medical / Dental Equipment
Military and Defense
Oil & Gas Industry
Plastic Injection Mold Tooling
Power Generation
Racking / Shelving Systems
Resistance Welding Industry
Seam Welding
Telecommunications Industry
Transportation
Universities / Laboratories
Welded Wire Reinforcement Industry
ISO Certification:
9001:2015 (Registration # 10002745 QM15 Valid until 2021-08-21)
Reports:
Certification of Compliance
Chemical Analysis
Final Inspection
Material Test Reports
Mechanical and Physical Testing:
Elongation
Grain Size
Hardness
Tensile
Yield
Nondestructive Testing:
Chemical Analysis
Conductivity
Liquid Penetrant
Ultrasonic
X-Ray