Backup and Swivel Electrodes
Backup and Swivel Electrodes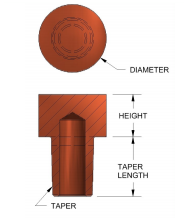 Cadi Company manufactures standard and to-print backup electrodes in round, square, and rectangular shapes. Electrodes are available in RWMA Class 1, 2, 3 and can be faced with copper-tungsten, tungsten, molybdenum, and other refractory metals. The standard material for backup electrodes is RWMA Class 2. Special shapes, sizes, and materials are available upon request.
Swivel head electrodes compensate for minor misalignments and minimize marking of the work surface. RWMA Class 2 is the standard material used, however, RWMA Class 1 and 3 are optional. Special sizes and shapes are available upon request.
For more information or a quote, call Cadi 800-243-3650.