Threaded Tips
Threaded Tips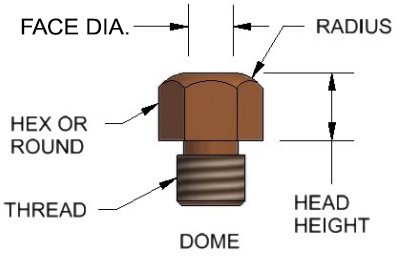 Cadi Threaded Tips are highly customizable to fit a wide array of applications. Custom shapes and sizes are readily available. The standard material is RWMA Class 2 but other materials are available.
Threaded tips have a low profile for welds where space is at a premium. These electrodes can be used for welding at higher forces than parts with a standard taper. The threads allow for precise location each time the electrode is replaced.
The hexagonal profile of these tips allows users to easily remove the tip with standard shop tools. RWMA tapers may require a tip extractor tool to remove the tips with minimal damage to the tip.
Threaded Tips

Shape

Button

Alloy

Hex-Size

Thread

Height

-

Face

Additional Info.

H = Hex

R = Round

B = Button

C15000

C18150

C18200

C18000

37 = 3/8"

43 = 7/16"

50 = 1/2"

56 = 9/16"

62 = 5/8"

75 = 3/4"

25 = 1/4 - 20

31 = 5/16 -18

37 = 3/8 - 16

43 = 7/16 -14

25 = 1/4"

37 = 3/8"

43 = 7/16"

50 = 1/2"

-

A = Pointed

B = Dome

C = Flat

F = Radius

Diameter or Radius of Weld Face as Required.

Example:

H

B

182

50

37

37

-

F

2.0 (Radius Dia.)