COPPER BERYLLIUM
COPPER BERYLLIUM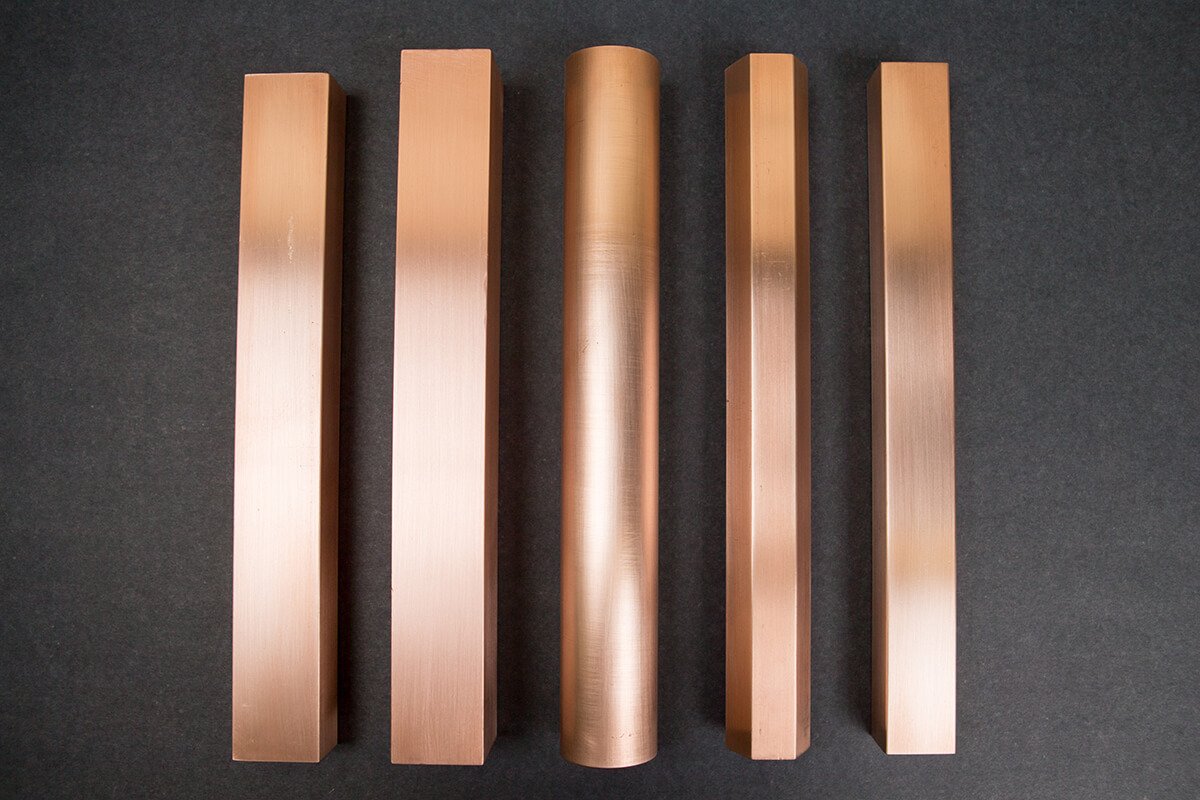 Copper Beryllium C17200, RWMA Class 4
Other Designations: AWS J1.3, ASTM B196, AMS 4533, SAE J461, CuBe2.1247, Alloy 25, Mold-Mor® 3, Mold-Mor® 4
Copper Beryllium is the highest strength copper alloy and is specified when the mechanical strength is the limiting design feature for a copper alloy. It is a heat treatable copper alloy having the unusual combination of very high hardness and strength and lower electrical conductivity than AWS J1.3/ RWMA Class 3 materials. Specify Cadi MOLD-MOR® 3 or 4 for mold applications.
Chemical Compositions of RWMA Materials Group A - Copper Base Alloys
RWMA Class
UNS Number
Description
Cu
Fe
W
Cd
Co
Ni
Cr
Si
Be
Pb
Zr
Al
4
C17200
Beryllium Copper
Balance
-
-
-
Ni + Co = 0.20% min.
-
0.20% max.
1.8-2.0%
0.02% max.
-
0.20% max.
Ni + Co + Fe = 0.6% max.
Cu: Copper
Co: Cobalt
Ni: Nickel
Si: Silicon
Be: Beryllium
Pb: Lead
Al: Aluminium
Typical usages of C172 RWMA Class 4 copper alloy: C17200 is recommended for flash and upset welding dies, projection welding and seam welding bushings, and other applications requiring harder copper alloys.
Fabrication Properties of C17200 Alloy:
Machining - C17200 copper alloy has a machinability rate of 20%.
Welding - Butt welding, seam welding, spot welding, coated metal arc welding, gas-shielded arc welding, brazing and soldering are recommended for C17200 copper alloys. Oxyacetylene welding is not recommended for C17200.
Forging - For C17200 occurs at a temperature of 649 to 816 degrees Celsius.
Hot working - C17200 copper alloys have good hot working capabilities.
Cold working - C17200 copper alloys have excellent cold working properties.
Annealing - Is the process of heating metal or glass and allowing it to cool slowly. This process removes internal stresses and strengthens it. C17200 copper alloys are annealed at temperatures from 774 to 802 degrees Celsius
Other fabrication properties include drawing, drilling, blanking, forming and bending, tapping, and turning.
GENERAL USES OF C17200

Back-up Electrodes

Bushings

Caps & Shanks

Casting Wheels & Dam Blocks

Continuous Casting Molds

Cross Wire Welding Electrodes & Components

Dies & Fixtures

Electrode Holders and Adaptors

Electrical & Mechanical Power Components

Flash & Butt Welding Dies

Injection Blow Molds & Dies

Joining Components

Nut & Stud Welding Electrodes

Permanent Molds

Pistons

Plunger Tips

Resistance Welding Electrodes

Seam Weld Wheels

Shafts

Spot Welding Electrodes

Threaded Electrodes

Wear Plates

Welding Arms

Welding Blocks

Welding Connectors

Welding Platens
Item Name:
Copper Beryllium Alloy C17200, ASTM B196
RWMA (Resistance Welding Manufacturing Alliance) Class:
Class 4
Principal Element:
Cu, Be
Minimum Hardness Rockwell (up to 1" dia.):
HRC 33
Minimum Electrical Conductivity (% IACS):
20
Metal Stock Availability:
Stocked in mill form or precision cut to your specifications.
Shape:
Bar
Hexagon
Octagon
Plate
Rectangle
Round
Special
Square
Length for Round, Hexagon, Square, Octagon, Rectangle, Special Shapes:
All sizes in standard lengths up to 12 ft
Special Sizes
Diameter for Round, Hexagon, Square, Octagon, Rectangle, Special Shapes:
1/8 to 8 in
Special Sizes
Thickness for Plate:
1/2 to 10 in
Special Sizes
Quality Assurance
Quality Policy: Cadi Company Inc. is dedicated to world-class excellence. Our commitment is to continually achieve the highest standards required to meet our customer's needs. Cadi is committed to a policy of continuous improvement within all areas of the organization through customer communication, by means of quality planning and review, as well as employee training and participation to achieve the Cadi commitment goal of 100% in quality, effectiveness, and customer satisfaction.
Quality Objectives: Cadi Company, Inc. is committed to the development and implementation of the ISO Quality Management System. We pledge that through the efforts of all our employees working together as a team, we will continually strive to be a leader (in our markets) in satisfying our customers' needs with regard to service, performance, and competitive pricing. Cadi shall maintain global and domestic sources to provide quality products as required by our customers. Cadi will provide our customers with the highest level of satisfaction by achieving the goal of 100% in the areas of product quality and on-time delivery performance.
Cadi Company is committed to providing goods and services that meet or exceed our customer's requirements and expectations. It is our firm belief that this dedication to the highest standards is the cornerstone of our existence.
We have the equipment and processes to guarantee the quality of the products we manufacture.
We continually upgrade our equipment and have ongoing training company-wide.
Each order undergoes stringent Quality Assurance Processes to assure accuracy and precision to the client's specifications and is verified throughout the manufacturing cycle with scheduled quality assurance audits.
All material is subject to detailed physical tests where microstructures, tensile, yield strength, U.T. testing, eddy current conductivity, elongation, and hardness are measured and reported.
Climate-controlled inspection facility.
We have a Metallurgical Engineer on-site for any technical questions.
To ensure Cadi follows rigorous quality and procedural protocols we are ISO 9001:2015 Certified and have been for over 18 years.
ISO Certification:
9001:2015 (Registration # 10002745 QM15 Valid until 2024-08-21)
Reports:
Certification of Compliance
Chemical Analysis
Final Inspection
Material Test Reports
Mechanical and Physical Testing:
Elongation
Grain Size
Hardness
Tensile
Yield
Nondestructive Testing:
Chemical Analysis
Conductivity
Liquid Penetrant
Ultrasonic
X-Ray
| | | | | | | | |
| --- | --- | --- | --- | --- | --- | --- | --- |
| Alloy Applications Cross Reference Chart | C15000 | C18150 | C18000 | C18200 | C17510 | C17200 | C15760 |
| Axial Conductors | X | | | | | | |
| Back-up Electrodes | X | X | X | X | X | X | X |
| Bushings | X | X | X | X | X | | |
| Caps & Shank | X | X | X | X | X | X | X |
| Casting Wheels | X | X | | X | | | |
| Casting Wheels and Dam Blocks | | | X | | X | X | |
| Centrifugal Casting Mold | X | X | X | X | | | |
| Circuit Breaker Parts | X | X | | X | | | X |
| Collector Connector | X | X | | X | | | |
| Collector Housing | X | X | | X | | | |
| Connector Bar | X | X | | X | | | |
| Connectors | X | X | X | X | X | | X |
| Connection Lead Bar | X | X | | X | | | |
| Continuous Casting Molds | X | X | X | X | X | X | |
| Cross Wire Welding Electrodes & Components | X | X | X | X | X | X | X |
| Damper Ring/Finger | X | X | X | X | | | |
| Dies & Fixtures | X | X | X | X | X | X | |
| Die Casting Pistons | | | X | | X | X | |
| Die Casting Plunger Tips | | | X | | X | X | |
| Electrode Holders & Adaptors | X | X | X | X | X | X | |
| Electrical & Mechanical Power Components | X | X | X | X | X | X | X |
| Flash & Butt Welding Dies | X | X | X | X | X | X | X |
| Flexible Connector | X | X | | X | | | |
| Heat Flux Components | X | X | X | X | X | | X |
| Injection Blow Molds & Dies | | X | X | X | X | X | |
| Joining Components | X | | X | | X | X | X |
| Lead Conductor Bar | X | X | | X | | | |
| Motor End Rings | X | X | X | X | X | | |
| Neutral Bus Bar | X | X | | X | | | |
| Non-Sparking Applications | | X | X | X | X | X | |
| Nut & Stud Welding Electrodes | X | X | X | X | X | X | |
| Performance Engine Components | | | X | | X | X | |
| Permanent Molds | | | X | | X | X | X |
| Power Generation Products | X | X | X | X | | | |
| Power Semiconductor Bases | X | X | | X | | | |
| Resistance Welding Electrodes | X | X | X | X | X | X | |
| Rotor Coil Bar | X | X | | X | | | |
| Seam Weld Wheels | X | X | X | X | X | X | |
| Series Loop Segment | X | X | | X | | | |
| Shafts | X | X | X | X | X | X | |
| Slip Rings | X | X | | X | | | |
| Slot Wedge | X | X | X | X | | | |
| Snap Rings | X | X | | X | | | |
| Special Nipple | X | X | | X | | | |
| Terminal Box Connectors | X | X | | X | | | |
| Threaded Electrodes | X | X | X | X | X | X | |
| Transmission Devices | X | X | | X | | | X |
| Water Clip | X | X | | X | | | |
| Wear Plates | | | | | | X | |
| Welding Arms | X | X | X | X | X | X | |
| Welding Blocks | X | | X | | X | X | |
| Welding Connectors | X | X | X | X | X | X | |
| Welding Platens | X | X | X | X | X | X | |