COPPER TUNGSTEN RWMA CLASS 10
COPPER TUNGSTEN RWMA CLASS 10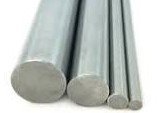 The Tungsten - Copper combination produces a dense, hard metal of superior wear resistance and strength at elevated temperatures. In addition, it possesses good thermal and electrical conductivity. Suited for facings and inserts for projection welding electrodes & flash and butt welding electrodes where good electrical and thermal conductivity are necessary.
Chemical Compositions of RWMA Materials

Group B - Refractory Metal and Refractory Metal Composites

RWMA Class

UNS Number or Other Designation

Description

Cu

W

10

n/a

Copper Tungsten

43-47%

Balance
Cu: Copper
W: Tungsten
Item Name:
Copper Tungsten, RWMA Class 10
Amount of Tungsten:
Balance
Amount of Copper:
43-47 %
Shape:
Bar
Discs
Inserts
Plate
Rod
RWMA (Resistance Welding Manufacturing Alliance) Class:
Class 10
Principal Element:
Cu, W
Minimum Hardness Rockwell (up to 1" dia.):
HRB 72
Minimum Electrical Conductivity (% IACS Min):
45
Quality Assurance
Quality Policy: Cadi Company Inc. is dedicated to world-class excellence. Our commitment is to continually achieve the highest standards required to meet our customer's needs. Cadi is committed to a policy of continuous improvement within all areas of the organization through customer communication, by means of quality planning and review, as well as employee training and participation to achieve the Cadi commitment goal of 100% in quality, effectiveness, and customer satisfaction.
Quality Objectives: Cadi Company, Inc. is committed to the development and implementation of the ISO Quality Management System. We pledge that through the efforts of all our employees working together as a team, we will continually strive to be a leader (in our markets) in satisfying our customers' needs with regard to service, performance, and competitive pricing. Cadi shall maintain global and domestic sources to provide quality products as required by our customers. Cadi will provide our customers with the highest level of satisfaction by achieving the goal of 100% in the areas of product quality and on-time delivery performance.
Cadi Company is committed to providing goods and services that meet or exceed our customer's requirements and expectations. It is our firm belief that this dedication to the highest standards is the cornerstone of our existence.
We have the equipment and processes to guarantee the quality of the products we manufacture.
We continually upgrade our equipment and have ongoing training company-wide.
Each order undergoes stringent Quality Assurance Processes to assure accuracy and precision to the client's specifications and is verified throughout the manufacturing cycle with scheduled quality assurance audits.
All material is subject to detailed physical tests where microstructures, tensile, yield strength, U.T. testing, eddy current conductivity, elongation, and hardness are measured and reported.
Climate-controlled inspection facility.
We have a Metallurgical Engineer on-site for any technical questions.
To ensure Cadi follows rigorous quality and procedural protocols we are ISO 9001:2015 Certified and have been for over 18 years.
ISO Certification:
9001:2015 (Registration # 10002745 QM15 Valid until 2024-08-21)
Reports:
Certification of Compliance
Chemical Analysis
Final Inspection
Material Test Reports
Mechanical and Physical Testing:
Elongation
Grain Size
Hardness
Tensile
Yield
Nondestructive Testing:
Chemical Analysis
Conductivity
Liquid Penetrant
Ultrasonic
X-Ray