Straight Threaded Hex 7/8-14 UNF in 4 and 5 RW
Straight Threaded Hex 7/8-14 UNF in 4 and 5 RW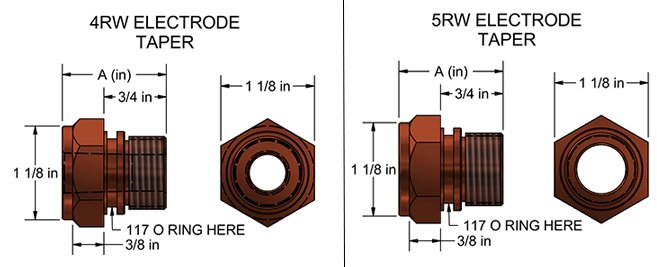 Cadi electrode adapters and water tubes are made to the exact specifications you require. We make all the standard lengths and special lengths per your application. Straight thread adapters are supplied with the necessary O-ring.
Electrode Adapters are used to improve electrode holder life and flexibility by allowing the adapter to be replaced when the taper wears out.
Electrode Adapters can mount to a holder via threads or RWMA tapers. Electrode Adapters designed for use with Muti-Spot Barrels have an O-ring to prevent leaking.
The standard electrode adapters are made from RWMA Class 2 alloy. Other Alloys are available upon request.